Cycling In Puerto Rico: Our Favorite Bike Trails & Rentals
If you're anything like us, the goal of your Puerto Rico vacation is to explore more. With miles of scenic trails, reaching from coast to countryside and back again, one of the best ways to experience the island is from the seat of a bike.
We're not the only ones who think so—there are dozens of bike rental companies and guided bicycle tours in Puerto Rico. Opt for a bike tour around Old San Juan or grab a rental and cruise the beachfront boardwalks on your schedule. Either way, you're going to want to carve out some time for cycling while on the island.
Paseo Piñones Trail
If you only have time for one bike ride while in Puerto Rico, let it be this one. A mellow, 7-mile trail near Loíza, the Paseo Piñones bike path is a part nature trail and part food tour. The path winds along a wild stretch of coast with secluded beaches and mangrove forests to explore along the way.
Still, our favorite part of this stunning wooden pathway is that it's lined with fun, local restaurants offering cold beer and authentic alcapurrias. (Not familiar with alcapurrias yet? They're a tasty Puerto Rican fritter and an absolute must-try.)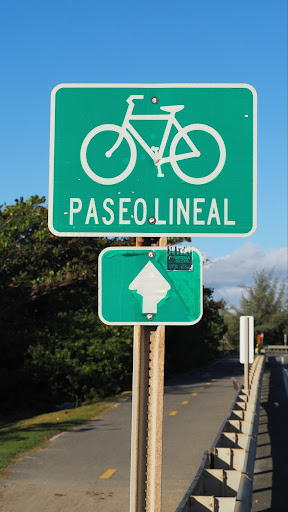 Make a day of the Piñones boardwalk by packing a swimsuit and towel, and stocking up on local snacks for a beachside picnic.
Paseo Lineal Isabela
Another relaxed coastal option is the family-friendly, paved Isabela bike trail. Located in Isabela, the north west coast's favorite sleepy beach town, it's a top contender for one of the best places to bicycle in Puerto Rico.
At 4 miles long, this path is perfect for bouncing between beaches with the kids and soaking in some of the island's most amazing ocean views. Incredibly scenic and easy to navigate, this one's a total joy ride and worth the drive from San Juan.
Domes Rincón Bike Trail
For a little more challenging of a ride, try out the Domes Rincón mountain bike trail. A favorite for local mountain bikers, this 4-mile route leads from one of the island's most popular surf spots, Domes Beach, uphill and into the jungle.
You get a little taste of everything with this one. Park by the beach, pass a historic lighthouse, pedal uphill, then race back down on a rocky, root-ridden dirt trail that'll test your skills. Ideal for intermediate mountain bikers, this one's not to be missed if you're thinking about mountain biking in Puerto Rico.
Guánica State Forest Nature Trails
For a rustic ride through some of Puerto Rico's most wild and gorgeous terrain, check out the Guánica State Forest. Mountain biking trails weave throughout the park, with panoramic views, challenging uphills and long flat stretches through its unique desert forest landscape.
The best biking can be found along Route 333, but the routes run long and far, so it's best to check in with the rangers at the Visitors Center for tips before your ride.
You'll enjoy some of Puerto Ricos' best nature viewing—but it is pretty raw. Bring water and sun protection with you!
Bike Rentals In San Juan
One of the most charming features of Old San Juan are the beautiful cobblestone streets. Of course, that old world magic wears off quickly when it comes to two-wheeled exploration. Despite designated bike lanes, it's best to take your San Juan biking adventures a little outside of the old town.
Luckily, there's plenty of user-friendly bike riding in San Juan, Puerto Rico: Like in Condado, a safe, bike-friendly neighborhood that offers views of the city, Condado lagoon and San Geronimo Fort, plus access to local beaches.
You can even grab a bike rental in Condado, so your ride begins in a safe, easy location.
Bicycle Tours In San Juan
Alternatively, you can book a guided bicycle tour around Old San Juan and the nearby beaches and trails. Tour guides will map out the day, lead you to the area's best views and make sure you're safe and happy throughout the ride.
Plus, it's always fun to experience the city with a local. It's both a good time and a great way to learn more about all of Puerto Rico.