Where to Go Kayaking in Puerto Rico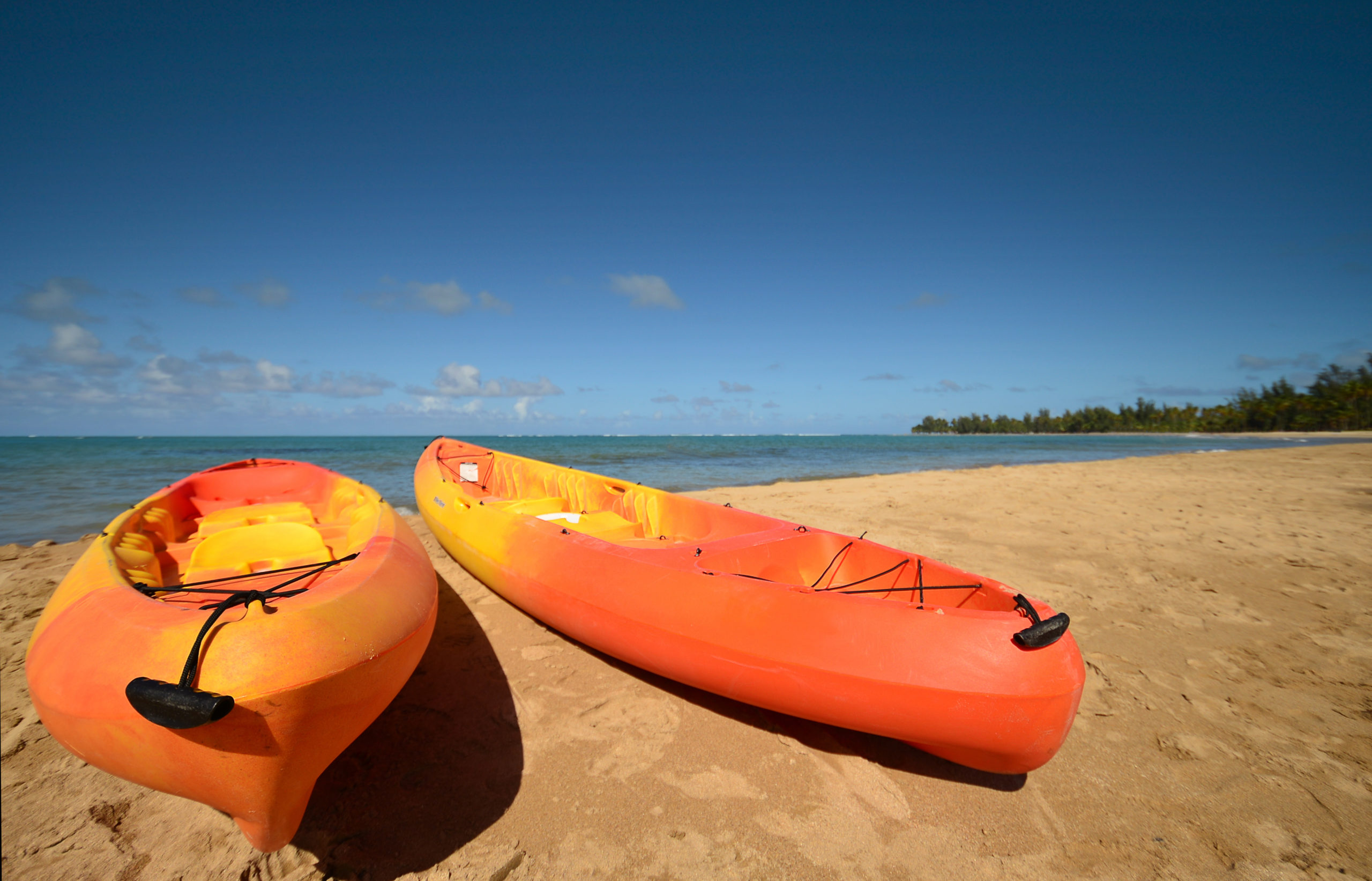 Kayaking in Puerto Rico isn't just an excuse to spend time on the water. It's also a unique way to see the sights along the shoreline, reefs, mangroves, and bioluminescent bays, some of the top attractions on the island.
Kayak tours and rentals abound from San Juan to Vieques, so you'll be paddling the serene waters of Puerto Rico in no time. And don't forget about paddleboarding! These two water activities go hand in hand. Here are some tips on where to go kayaking and what to expect.
Greater San Juan 
As Puerto Rico's major hub, San Juan isn't necessarily known for its beaches (but it's a great place to grab a drink or enjoy a bustling nightlife scene). However, the greater San Juan area, specifically Isla Verde and Condado, is a great place to go kayaking while still staying near the restaurants and attractions of Old San Juan.
Laguna del Condado is a popular kayaking and paddleboarding spot, with kayak rentals available and plenty of nice scenery like fish and even manatees. Plus, you can stretch your legs on the nearby walking trails or lay out to catch some sun on the shoreline.
As a popular destination to stay, the resorts along the beach in Condado offer kayak rentals with access to private beaches. 
Bioluminescent Bays
If kayaking is one of your go-to vacation activities, paddling in one of Puerto Rico's three bioluminescent bays is an absolute must. Located in Fajardo, Lajas, and the island Vieques, the bio bays offer a magical water adventure best experienced at night. 
As soon as your paddle dips into the water, you'll see the glow-in-the-dark effect of millions of microorganisms beneath the surface. This phenomenon looks like a soft sparkle of light that erupts with each stroke of your paddle. 
With three bio bays to choose from, you might be wondering where to go kayaking for the best bioluminescent experience. Although you'll be able to experience the magic in any one of Puerto Rico's bio bays, each has pros and cons to take into consideration.
La Parguera, Lajas: The least crowded bio bay, but also the dimmest. Snorkeling or swimming may be permitted depending on the tour operator (not allowed at the other bio bays).
Mosquito Bay, Vieques: Puerto Rico's brightest bio bay. It's more expensive and involved to visit since you have to travel from the main island to get there.
Laguna Grande, Fajardo: The most convenient bay to access at just a short drive from San Juan, can get crowded.
Think this Puerto Rico kayak experience is for you?
Culebra
Culebra is a small island off the east coast of Puerto Rico. It's famous for beaches like the well-known Flamenco, amazing snorkeling spots, and great kayaking and paddleboarding for all abilities. 
With the most coral on the island, the reefs at Culebra's Luis Peña Reserve treat kayakers and paddleboarders to stunning clear waters and schools of tropical fish and marine life. You don't have to go scuba diving or snorkeling to experience the sheer beauty of Culebra, but it's easy enough to pack your mask and dive in from your kayak.
You're sure to enjoy the secluded cays and beaches of Culebra. Flamenco Beach and Carlos Rosario Beach have little to no waves so you can feel relaxed on the water whether you prefer kayaking or paddleboarding.
Read more on getting to Culebra from San Juan.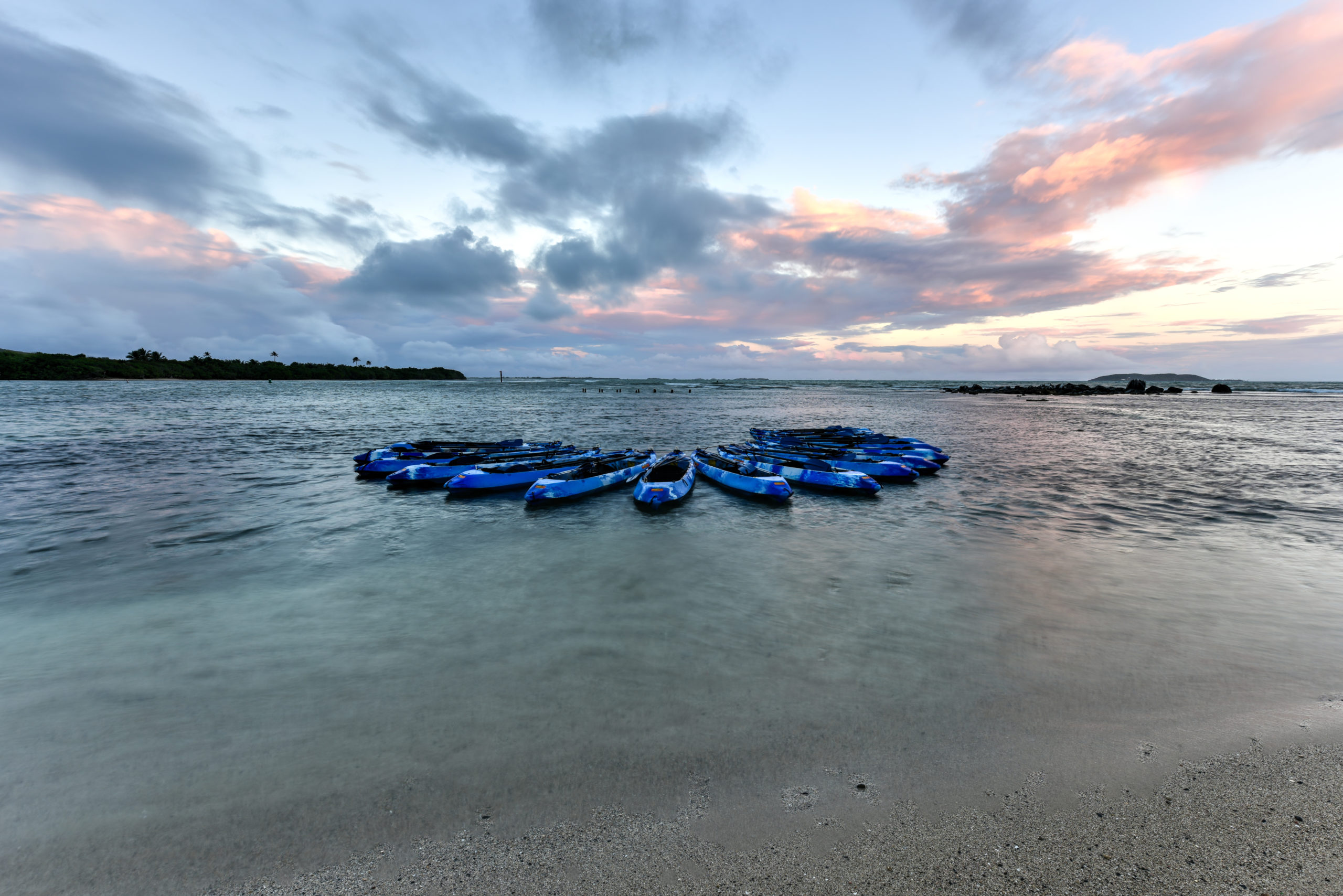 Fajardo
Fajardo is about an hour from San Juan on the east coast of Puerto Rico. As a coastal town, there are plenty of great beaches to launch your paddleboard or kayak and get some exercise. 
For a full beach day, head to Seven Seas Beach with your gear (and the family!). This crescent-shaped beach boasts incredible views, gentle water, and the perfect environment for paddleboarding.
Of course, if you'll be in Fajardo, be sure to book a kayak tour at Laguna Grande, the bio bay!
Piñones
The beachfront neighborhood Piñones is known for its beaches and food stands, so much so that locals practice "chinchorreo" – hopping from food stand to food stand and ultimately ending up at the beach.
But beyond this fun take on food trucks, Piñones has several amazing kayaking destinations, particularly the Torrecilla Lagoon. This lagoon has an incredible ecosystem, which you can learn all about on a fun and informative kayak tour. 
Be on the lookout for royal terns, tarpon, stingrays, and brown pelicans as you glide through the lagoon, admiring the beautiful mangroves and scenery.
In addition to the lagoon, you can also go kayaking at the neighborhood beaches like Vacía Talega and La Pocita.
Inland River Kayaking
For a truly unique Puerto Rico kayaking experience, consider skipping the beach altogether and exploring Puerto Rico's inland rivers and caves. 
Batey Adventures offers a river kayaking tour that takes guests on the Tanamá River for an amazing kayak experience you won't find anywhere else. Paddle through the river cave Portillo, float through the 1,000-foot tunnel and swim under a waterfall on this amazing adventure.
Another river kayak adventure will take you from El Yunque Rainforest all the way to the ocean on the Mameyes River. 
For more inland kayak trips, check out lakes like Lake Guajataca or Lake Matrullas.
Ready to plan your kayaking experience in Puerto Rico?