4 Types Of Fishing In Puerto Rico
Score snapper on the island reefs, battle tarpon in the brackish lagoons, troll for marlin on a deep sea fishing charter or drop a line in a freshwater fishing hole. When fishing in Puerto Rico, you can do a little bit of everything.
Our favorite tropical island offers a unique blend of landscapes and water features, making it an unparalleled destination for any type of angler. From fly-fishing to sportfishing, there's year-round opportunity —you just have to know where to look.
1. Deep Sea Fishing
If blue marlin, white marlin and sailfish are on your must-catch list, then deep sea fishing in Puerto Rico should be too. Off the coast of Fajardo, the Yucatan current rushes in creating world-class sport fishing conditions.
Dubbed "Marlin Alley," these waters swarm with prized game fish from June to September, yielding to catches like mahi mahi, wahoo and yellowfin tuna the rest of the year.
Fajardo's deep sea fishing charters make it easy on anglers. They'll handle all of the important details—from finding the best fishing spots to keeping you up to date on the Puerto Rico fishing regulations. You've just gotta keep on reeling.
2. Inshore Fishing: Flats and Lagoons
It's not just about deep sea fishing in Puerto Rico. The tangle of inshore options includes bays, river mouths and lagoons. Prime fishing grounds like these can be found all over the island, but the shore fishing in San Juan and Arecibo are particularly good.
Here, you can test your patience with challenging Puerto Rican fish like bonefish and tarpon. Stubborn, elusive and impossibly large, these trophy fish are true light tackle and fly fishing prizes and the hallmark of fishing in Puerto Rico.
3. Reef Fishing
Nothing makes for better recreational fishing than a thriving archipelago. With hundreds of cays, inlets and small islands, the reef fishing in Puerto Rico is easily some of the world's best.
Productive reefs can be found all over the island, but the reef fishing in Rincón and Ponce is especially good. Cast your line here for prized reef fish like grouper, red snapper, jacks and barracudas.
The most tropical feeling of all of Puerto Rico's fishing spots, reefs offer the perfect multi-tasking opportunity. The same reefs you fish are excellent snorkeling sites!
For amateur anglers, a reef fishing trip or charter is the perfect blend of sightseeing and fishing. Take advantage of those pristine Caribbean waters!
4. Rivers and Fishing Holes
We told you that the fishing in Puerto Rico is the best. Yes, even in this salt water paradise there's freshwater fishing to be found. A healthy population of largemouth, white and peacock bass can be found in Puerto Rico's inland rivers and reservoirs.
On your island adventures, any spot might offer a prime fishing opportunity. Just one more reason to pack a fishing pole and box of tackle!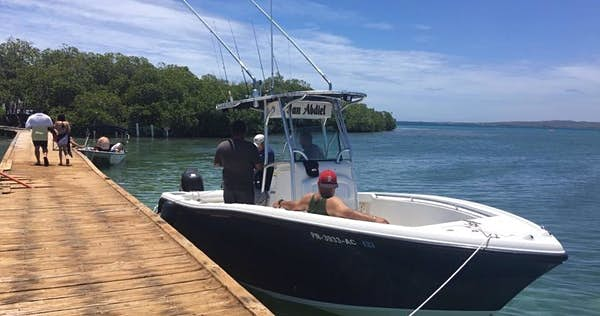 Important Things To Know Before Your Puerto Rico Fishing Trip
When it comes to the island's fishing regulations and rules, there's a lot to learn – like when certain species can be harvested, which are catch-and-release only, and any size and bag limits.
The best way to ensure you're following all the local laws is to book one of the many excellent Puerto Rico fishing charters. They'll handle everything—tackle, bait, and licensing included.
Outside of all that—the question on everyone's mind is how to acquire a fishing license in Puerto Rico. But in federal waters, no permit or license is required for recreational fishing. Of course, you'll still need to follow laws for state waters, which often require a fishing permit.
Again, the best route to take is to book with a fishing charter. You'll be able to fish your heart out with no fear of breaking the rules!